Make your X-Y capable analog oscilloscope more useful!
Your oscilloscope can do a lot more using the
Dutchtronix AVR Oscilloscope Clock
Hardware 2.0
Equipped with firmware V3.1
This design has been replaced by Hardware Version 3.1
This page is an archived copy.
Look at the Dutchtronix AVR Oscilloscope Clock, firmware version V3.1:
| | |
| --- | --- |
| | Connects to your analog scope in X-Y mode using regular 10x probes. |
| | Improved 200-290 Hz refresh rate (dependent on the selected clock face mode) |
| | Set Time and Date using the on-board button switch. |
| | Set clock options and modes with On Screen Menu using the push button switch |
| | Roman Numerals Clock Display Option |
| | Binary Clock Display option, together with Hexadecimal numeric Display (Bi-Hex clock) |
| | Fractional Seconds display option showing time in 1/100 of a second increments. |
| | A total of 30 different Clock Display combinations is possible. |
| | Optionally add your own name to the Clock Display |
| | Automatic Time and Date setting when connected to the NMEA output from a GPS device |
| | Automatic Daylight Saving Time correction for the years 2008-2014 for the USA and the EU |
| | Header for External Clock Signal (GPS 1 Pulse Per Second for example) |
| | Automatic Screen Repositioning to prevent screen burn-in |
| | Display Calibration mode |
| | Intensity Control Output |
| | Play modes to have some fun with the clock. |
| | Clean Reset of the EEProm Configuration Data option |
| | Alternate Open Source Application available: the AVR Oscilloscope Terminal |
| | Professionally made dual sided PCB (with solder masks and silkscreen) |
| | Only 5V Power required (clock side cable connector included) |
| | Extensive FAQ document |
| | On-board Real-Time Clock IC with 32.768kHz crystal and battery backup: this clock won't lose time! |
| | RS-232 serial control connection (use is optional, clock side cable connector included) |
| | Firmware pre-programmed and upgradeable through the RS-232 interface using the built-in boot loader |
Besides keeping accurate time using both clock hands and numeric display, this AVR clock provides a host of options like:
| | |
| --- | --- |
| | Numeric time display field showing 12hr, 24hr, hexadecimal time or the date |
| | 12 Hour, 24 Hour, Roman Numerals or mininal clock dial. For true geeks, we offer the binary clock display (with hex numeric display) |
| | Connect your GPS module and the clock will accurately display the current date and time |
| | No need to adjust the clock for Daylight Saving Time; it can be done automatically |
| | Show the clock features to others using the built-in demo mode |
| | Need more accuracy: turn on the chrono mode to see the time in 1/100 of a second increments. |
| | Calibration screen to optimally adjust the scope and probes. |
| | On board seconds indicator Led on or off |
| | Automatic Screen Repositioning on or off |
| | Play modes: run clock fast, in reverse or both |

On Screen Menu

| | |
| --- | --- |
| | Clean reset the clock to its virgin state |
| | Enter the name of your choice using the menu and it can be shown on the clock face |

Changing the time or date is done using the on-board push button switch; the item being changed will flash. Depending on the selected display, this can be text (numeric display), a clock hand (analog clock only display) or even columns of "lights" (binary clock only display).

Binary Clock Display 10:43:59
This AVR Oscilloscope clock is a kit, using all through-hole components. The kit included ALL components necessary to assemble the board shown below, including a preprogrammed ATmega168 microcontroller. It does not include an oscilloscope and requires an external +5V regulated power source. It also includes connectors for the Power and RS-232 headers on the board. The user can use these connectors to build the power cable and optional serial communication cable.
Low-end Digital Scopes will not work well, High-end Digital Scopes do work (Tektronix TDS2014B, HP54600B )
The included boot-loader allows the user to update the firmware to newer versions of the Clock application, but it also allows the user to run different applications on the clock hardware. We recently released such an application:
Please note that the firmware used on this AVR Clock is an Open Source application (the Source Code is posted below) and is completely free. The price of the kit covers the parts, labor, and distribution only; there is no charge for the firmware and it is programmed into the AVR microcontroller as a courtesy.
This version of the Dutchtronix AVR Oscilloscope Clock is not available any more. It has been replaced by Hardware V3.1.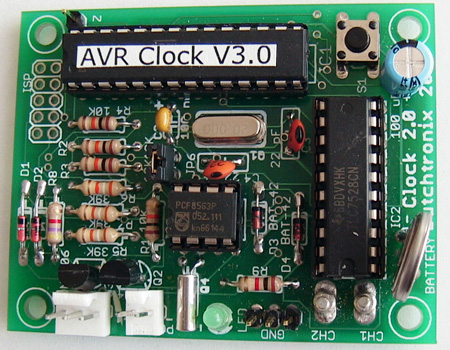 Dimensions: 2" x 2.5"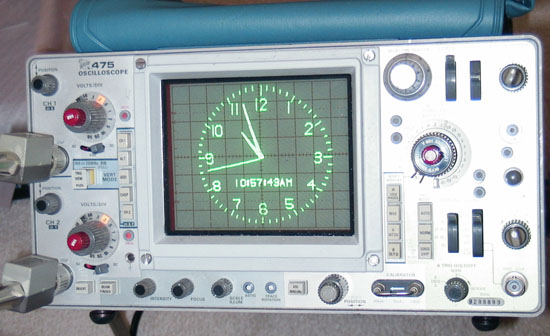 Image shown has the optional ISP connector installed.